Style Spotlight: "Glamazon Bitch" and Olympic medalist Adam Rippon
The Winter Olympics craze kind of went over our heads here at the Garage HQ—it's hard to get excited over winter sports when it's absolutely sweltering where you live—but even we weren't "spared" from hearing about Adam Rippon.
And it's a good thing, because we got to learn how sassily principled the figure skater is, beyond standing up for himself against his country's second chief-in-command, a man who supports gay conversion therapy. (Rippon is gay and damn proud of it.)
Take his clapback on Twitter last month against those who have too much time on their hands:
To all those who tweet at me saying that they "hope I fail", I have failed many times many times in my life. But more importantly, I've learned from every setback, proudly own up to my mistakes, grown from disappointments, and now I'm a glamazon bitch ready for the runway.

— Adam Rippon (@AdamRippon) February 13, 2018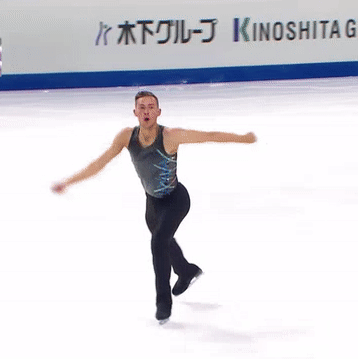 Rippon's attendance at last Monday's Oscar Awards (Sunday in Los Angeles) got us even more obsessed with him, with his harness-and-tuxedo outfit from Moschino getting mixed reactions, even from us.
In response to the people who went "Ixnay!" to his Oscars look, Rippon had another comeback:
I think fashion is all about self expression and I chose to wear what I wore on the red carpet because I felt cool AF. Everyone should take risks, be bold, and not give a 💩. It's LOTS of fun. Huge thanks to my team for dressing me and make me feel like a sexy MF. pic.twitter.com/gimDFyJPYd

— Adam Rippon (@AdamRippon) March 6, 2018
The harness might have even brought him some good juju, because at the Vanity Fair Oscar party, he got to meet his crush, pop artist Shawn Mendes:
Rippon, BTW, switched up the black loafers he wore to the awards ceremony for a pair of white trainers for  the after-party:
The outfit got us curious: There has to be more to his style choices than an S&M-themed suit, right? How does a 28-year-old figure-skating cultural phenomenon, one who can count Reese Witherspoon and Britney Spears as fans, dress himself, both on and off the rink?
Tights, mesh, and sparkles seem par for the course for skating outfits, though Rippon's look here has a dash of stylish sinister. Here's a closer look at his top:
https://www.instagram.com/p/BcnbtfYFANF/?hl=en&taken-by=adaripp
The perforated leather of the tank top is a bit of an unusual look, and if you really think about it, it fits right in with the bondage aesthetic Rippon sported at the Academy Awards red carpet.
It's a similar theme that appeared in one of the costumes he wore to last month's Winter Olympics in PyeongChang, South Korea:
https://www.instagram.com/p/BdlJ2fTFAPr/?hl=en&taken-by=adaripp
His other costume, a bedazzling electric blue attire, however, had a lighter, ethereal feel to it:
When USA Today raided Rippon's closet earlier this year, the athlete described his performance outfits and programs as "slutty" and "tongue-in-cheek," and "[they] represent who I am."
Off the rink, Rippon prefers sweaters and sweatpants, mostly in solid colors, and shirts with prints that he describes as "a little gaudy." He's also equally at home sporting designer pieces and accessories.
https://www.instagram.com/p/BfCqAJkFhh9/?hl=en&taken-by=adaripp
https://www.instagram.com/p/Bei2vdYFuwg/?hl=en&taken-by=adaripp
https://www.instagram.com/p/BcNN_exFbV8/?hl=en&taken-by=adaripp
https://www.instagram.com/p/BbRJlrgl-TZ/?hl=en&taken-by=adaripp
https://www.instagram.com/p/BcQCL7blEK_/?hl=en&taken-by=adaripp
https://www.instagram.com/p/BbqW2sflzvX/?hl=en&taken-by=adaripp
In the same USA Today interview, Rippon described his style evolution as "going from straight boy-chic from eight years ago" to something more "Euro-fun."
More than the outfits, though, what makes Rippon a compelling character to follow is his glee in being himself: funny, opinionated, open, and also touchingly cheerful.
That's why it's a surprise for us to learn that he came out only in 2015, through an article in a skating magazine. He shared to USA Today that his pre-coming out years was a time when he "was always trying to do things to please other people and I wanted to be that perfect athlete…When I finally let go of that and try to just enjoy myself and do this for me. I like who I am and I want to share my personality with everybody. I want to bring who I am onto the ice. Now I am unabashedly myself, I am really representing who I am and being true to myself. And [I'm] skating so much better."
Of how his style is closely tied to his personality, he said, "I'm me, I'm free in my mind and that where my sense of style comes from. Finally, people are getting to see that because I'm not afraid to show it."
And in his courage, more young folks feel the freedom to be themselves too.